What is Kinesiology?
Have you tried it yet?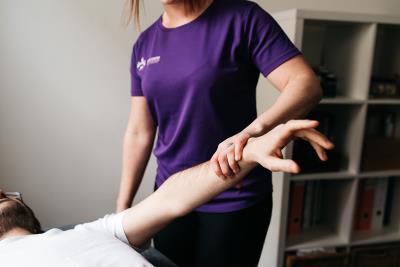 Kinesiology allows you to take back control of your own health and can help with a multitude of ailments. It is becoming one of the UK's fastest growing complementary therapies.

A Systematic Kinesiologist will conduct muscle testing to understand which systems in a person's body are not working properly. There are a number of techniques, from nutrition, too emotional to structural, to help lead that person back to feeling well again.

A systematic kinesiologist treats the body and person as a whole, not just the symptoms, and this is why Systematic Kinesiology is so fantastic at really getting to the root of a problem.

Kinesiology provides a picture of what is going on inside a person's body, which makes it much easier to understand why it is that someone feels poorly and what it is that their body needs to help them feel better.

I will start by discussing your health status with you and from the information received, I will then begin by doing a series of muscle tests. Based on the feedback of the muscle test, I can give suggestions and advice, including nutritional supplements, relaxation techniques, lifestyle changes and more. I offer a safe, private and personal service, attuned to your individual needs.

Sarah has qualified in Practitioner Systematic Kinesiology and has appointments waiting for those in need of understanding your body and helping with any problems from food sensitives, to bloating to emotional issues. The sessions are roughly an hour long and are done at Sarah's home in the BS3 area.

If you are intrigued to find out more about how Kinesiology might benefit you, get in touch with Sarah for an initial, no obligation chat and she will talk through how it could be of help to you by email hello@sarahlangfordfitness.co.uk or 07920408013.

For Adults:
First session is roughly an hour and half £65
Follow on sessions are for an hour £55

For kids:
First session is £50
Follow on sessions: £40
Cancellation Fee unless given 24 hour notice full charge